DVDs for Suurat al-Nuur Course are ready

(Advanced Library)

New book by our Shaykh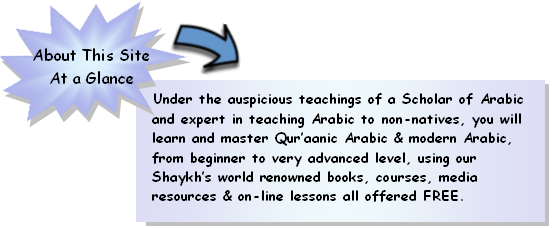 Welcome to the
new
Arabic teaching resource of our respected Shaykh
Dr. V. Abdur Rahim – an outstanding Scholar of Arabic Language and Literature and renowned for teaching Arabic to non-natives of it, for more than half a century. Our Shaykh was formerly Professor of Arabic
Language for 30 years at the world renowned Islaamic University, Madinah, and then Director of the 'Institute of Teaching Arabic as a Foreign Language', Islaamic University, Madinah.
Currently our Shaykh is the Director of the Translation Centre at the

'King Fahd Glorious Qur'aan Printing Complex'

and has served as its Director for over 15 years

(may Allaah preserve him and benefit us with his knowledge).
BEGINNER'S

LIBRARY
Start your journey to mastering Arabic with our free
Arabic language courses and accompanying media resources in an interactive learning atmosphere.
ADVANCED LIBRARY
Quickly excel to an advanced understanding of the Qur'aan and Sunnah with our free
Qur'aanic Arabic courses, media resources,

Hadiith

expositions and complete Arabic and Islaamic Sciences Syllabus of the world renowned
Islaamic
University
, Madinah
.

Through carefully studying selected texts of the Qur'aan,

'aHaadiith

and classical Arabic literature you will develop your understanding to a very advanced level, learn intricate aspects of grammar, language,

Sarf 

and style and build on what you have already learnt with the Shaykh. At the end of the Shaykh's complete program, you will also be equipped to understand traditional Arabic texts like the famous and weighty Al-Alfiyyah of Ibn Maalik (raHimahu llaah).
BOOK FAIR



Book

Fair offers you essential materials for purchase and

extracts to sample and enjoy. (For a quick overview of all materials at this site, see Books & Courses in the section:

Our Shaykh

)

.
CHILDREN'S LIBRARY & BOOK FAIR
Race to your own kids' library and book fair and start learning the language of the Qur'aan in a fun-filled learning atmosphere. You will learn through various creative methods such as animated grammar lessons, vocabulary activities, educational art lessons and a world of colourful exercises.

ON-LINE LESSONS
To supplement your studies in the on-line libraries and materials from Book Fair, our Shaykh is also teaching the Arabic sciences through 5 on-line study programs:


Q & A
Ask your questions on any of the Arabic sciences to our Shaykh in Q & A.
We hope you benefit from and enjoy, the knowledge and expertise of our Shaykh on your journey to mastering the language of the Noble Qur'aan.




Administrator of Shaykh's site